Welcome to this 13th edition of the "Communiqué!"
GENERAL UPDATES
In the last two MDC editions, I mentioned the Interski tryouts. Following these events, we would like to congratulate the 48 candidates that have made it to the next round! Check out who they are below: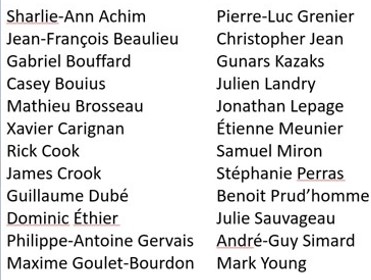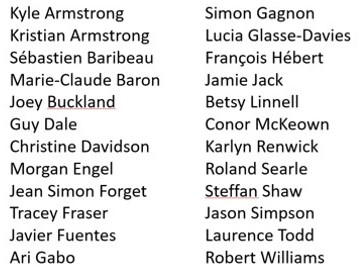 If you have not seen this Interski selection tryouts trailer yet, click here for some highlights from the Eastern event.
Operationally, Program participation has been trending very well; 45% ahead of last year, and we are entering the busiest section of operation season! Wishing everyone taking part in a Certification Course this spring the best of luck in their pursuit!
Across the country, we are fully aware that in some cases, COVID-19 protocols as defined by local health authorities, are starting to change. At this point in time (FYI, it has NOT changed our CSIA protocols), we are still concerned with the impact that COVID-19 has on our Members' safety, our Program operations, and our partners Ski School operations. Should our protocols change, we will broadcast that information here to the Membership.
As we continue to develop our relationship with our neighbors to the south, the PSIA has opened its upcoming Women's Summit to our Membership. The event is scheduled from February 27 to March 2 in Stowe, Vermont. If you are interested in participating, click here to get more information and register.
SKI INSTRUCTOR JOB – REACH OUT TO YOUR LOCAL SNOW SCHOOL!
As we continue to move forward out of the Global Pandemic (fingers crossed) Ski Schools in different areas of the country are looking for staff. If you haven't been working recently and are looking to get back into the "Pro Room", check out the Job section of snowpro.com. There are some great opportunities, including a posting from Turoa, New Zealand (my old alma mater) for this Southern Hemisphere Winter.
MEMBERSHIP BENEFITS UPDATE
RENEW YOUR 2021-2022 MEMBERSHIP!
Act now and take advantage of some of the amazing benefits offered to Members, such as access to Pro Deals available online and our wonderful CSIA branded store items.
Login to your profile in snowpro.com to renew.
CSIA ONLINE STORE SALE
Everyone needs a CSIA hoodie! Not only are they warm and stylish, but for the next 2 weeks, they are on sale at 15% off of CSIA Member price. Check it out! This sale ends on February 23, 2022.

You can find these items and so many more, available to Members only on the CSIA online store. Hurry, as quantities are limited!
OTHER NEWS
2021 TUITION FEES TAX RECEIPTS
Please note that your CSIA tax receipt for National Programs taken between January 1st and December 31st, 2021, will be available on snowpro.com as of early March 2022.
To find your receipt, log in to your profile using your Membership number and password. Then, retrieve the information in two simple steps;
From the top menu, click on Member Area, then on My invoices and Tax Receipts option.
At the bottom of the drop-down menu, find the Tax Receipts, ready to download.
The season is in full swing! Please make sure to follow the health recommendations and stay safe on the slopes!
Best Regards,
On behalf of the entire CSIA Staff Team
Perry Schmunk
Managing Director