Welcome to this 14th edition of the "Communiqué!"
GENERAL UPDATES
In the last edition, I commented on the CSIA Course volume. That trend continues as we are now 50% ahead of last year, and it is amazing to see our Members still taking the time to pursue their development goals, given how busy Instructors are at this time of year.
As we rebound from the Pandemic (fingers crossed), most Ski Schools across the country are indicating that lesson demand has returned robustly. And the good news is that this positive trend might be continuing well into the future!
With these business levels, it is so important to make sure to keep your own safety at the core of your daily routine out on the slopes. At this time of year, it is so easy to lose focus for a second and make yourself vulnerable to injury.
Remain diligent out on the hill and keep up with all the good stuff off the hill as well: sleep, nutrition, and conditioning, so that you remain healthy both physically and mentally.
In other updates, I wanted to keep you informed on our Interski candidates who were successful in the first cut of the tryouts. They are busy preparing their submission for round two (deadline this Friday, February 25). After some discussions with the coaching staff, I know that they are excited to see the submissions that have come in so far!
We are looking to announce our next Interski Team on April 4 (or before), so stay tuned for some updates!
MEMBERSHIP BENEFITS UPDATE
HAVE YOU RENEWED YOUR 2021-2022 MEMBERSHIP?
Renew now and take advantage of some of the amazing benefits offered to Members, such as access to Pro Deals available online and our wonderful CSIA branded store items.
Login to your profile in snowpro.com to renew.
DISCOUNT ON PROGRAM REGISTRATION
Please note that if you are under 25 years of age, you automatically receive a 5% discount at checkout when you register to a Level 2 Program.
CSIA ONLINE STORE
We hope you've had a great season on the slopes so far and that you were able to stay warm on those cold days! If you find that you could use a new base layer, hat, socks, or gloves to finish the season, check out our items in the online store. You may just find what you need at a great price!
All items found on our online store are currently available to our Members with great savings compared to the regular retail pricing. Visit the CSIA snowpro.com online store to see the different items available and don't forget the Sales section with up to 55% discount on regular Member pricing.
Happy shopping!
THE NORTH FACE PRO DEAL (PRO PROGRAM)
We often get questions on how to take advantage of the North Face Pro Deal Program. Here's a reminder of the instructions...
To redeem your code, allowing you to purchase The North Face items this season, access your profile on snowpro.com then select Member Area and choose My Pro Deals and Promo Codes. Once you are on that page, you will be able to click on The North Face link to follow the steps.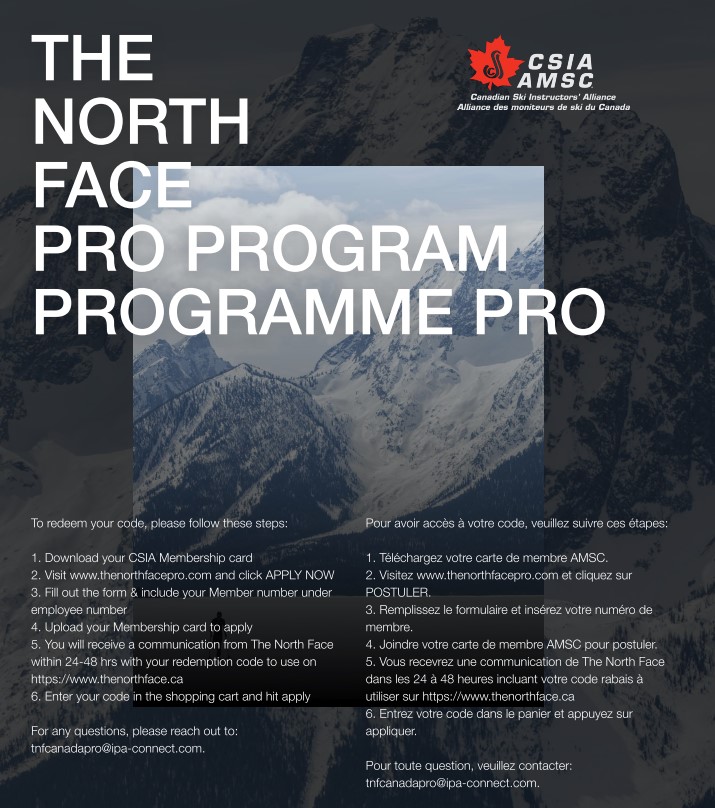 With all your hard work this season, reward yourself with some cool and durable The North Face gear!
Stay safe!
Best Regards,
On behalf of the entire CSIA Staff Team,
Perry Schmunk
Managing Director