Have a look at the 20th edition of the Communiqué!
GENERAL UPDATES:
Dear CSIA Member,
Our Northern Hemisphere Winter Operations have concluded for the season! In Program Operations it was a record for participation with 12 thousand Members taking a Certification Program this past season.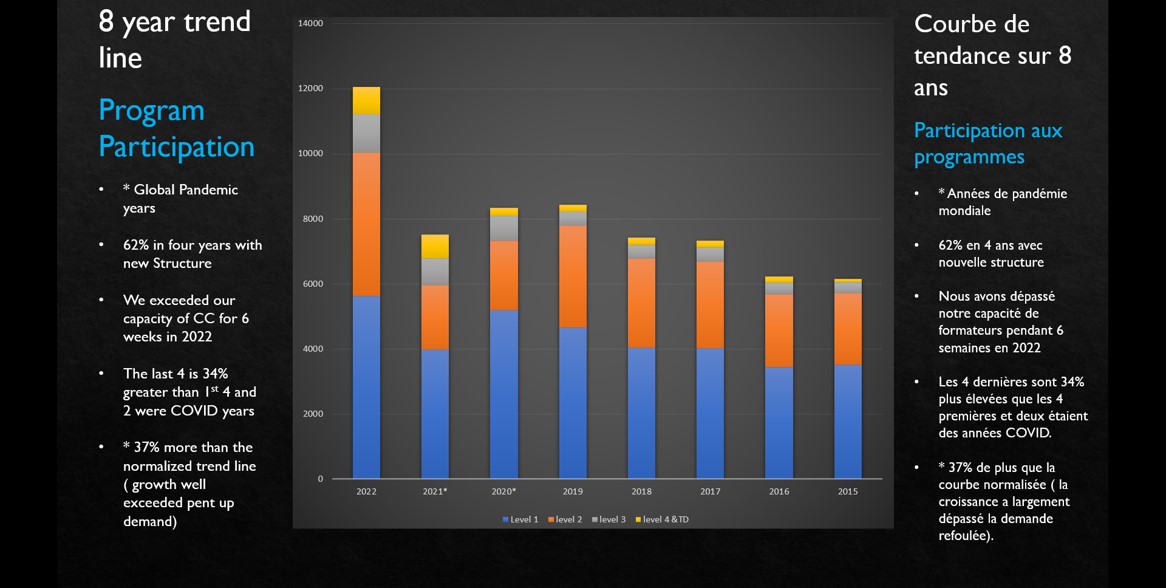 As Program operations have concluded, the next 6 weeks will be busy for both your elected Volunteers and Staff members as we plan for next season and beyond.
This past Sunday, May 15, we had a planning session with the National Board Members, Regional Board Chairs, Committee Chairs, and Staff Directors. That session was a key initial step in our annual operations plan and budget, as we press on towards our 2022-2023 season and beyond. We will share the outcome documents from that session shortly.
MEMBERSHIP TOWN HALL(S)
If you missed the link to the recording of the April 27 session, here it is below:
Click here to consult the April 27 Town Hall Recording.
May 30 Town Hall (this session will be held in French):
When: May 30, 2022, 07:00 PM Eastern Time

Click here

to register in advance for this meeting. After registering, you will receive a confirmation email containing information about joining the meeting.
UPCOMING RECRUITMENT FOR ALBERTA AND ONTARIO EPC ROLES
In case you missed it in the previous Communiqué, there are exciting opportunities available with the CSIA as we look to fill Education Program Coordinator roles in both Alberta and Ontario! Stay tuned toward the end of May for more information including job descriptions, interview and selection process, and timelines!
MEMBERSHIP BENEFITS UPDATE:
RENEW THIS SEASON'S MEMBERSHIP (2021-2022) BEFORE JUNE 30th!
Renew before June 30 and keep your Membership and Certification active, allowing you to enjoy the many benefits that CSIA has to offer, such as a $750 cashback on your next purchase or lease of a new Subaru vehicle. You will also avoid any reinstatement fees next season!
To renew your Membership online, go to snowpro.com, access your Profile with your Membership number and password, or contact us at 1-800-811-6428 ext. 221.
SUMMER MEMBERSHIP BENEFITS
Need gear or clothing for your summer outings, such as camping, trail running, etc? THE NORTH FACE PRO PROGRAM is still active to CSIA Members and will answer all your needs this summer!
THE NORTH FACE Apparel and Equipment PRO DEALS: Twice per year Members can apply to get codes for 50% off outerwear & sportswear, and 40% off footwear & equipment. Codes are one-time use for up to $1,000 after discount.
The total retail value is over $6,000 in discounts
Free shipping
TNF Pro Deal is available through THE NORTH FACE online store only.
Once you have renewed your Membership, you will be able to go to https://thenorthfacepro.com/en/pro to sign up for this year's Pro Deal codes.

When you are on The North Face Pro Program website, you will be prompted to upload a digital copy of your Membership card. Your Membership card is found in your snowpro.com Profile.

Once you have your pro deal codes, visit https://www.thenorthface.com/en_ca/homepage.html
CSIA ONLINE STORE
Winter is now behind us, and you can start planning your summer outings!
Save on CSIA branded items such as The North Face backpack and T-shirts, CSIA travel mugs, and baseball caps! Find everything you are looking for and save at the CSIA Online Store!
Visit snowpro.com for all the details.
EDUCATIONAL RESOURCES
The CSIA is a Member of the IVSS through Interski. This educational arm of Interski provides great resources for us as Ski Instructors and Members. Click here to check out the IVSS website and discover more.
On behalf of your CSIA Staff Team, enjoy the upcoming long weekend!
Best Regards,
Perry Schmunk
CSIA Managing Director