You are reading the 24th edition of the Communiqué!
GENERAL UPDATES:
Dear CSIA Member,
I hope this edition finds everyone enjoying summer! A couple of quick updates on some summer projects we are working on.
One thing that I am very excited about, is that the National Board recently approved a research project with the company IPSOS. This project will start this fall and will culminate in an online survey to the entire Membership in mid-winter (targeting January 31, 2023).
The concept is that we will execute a comprehensive survey on an annual basis so that we can have a more sophisticated data set to help us move the organization forward. This new level of discipline will help us deliver an ever-increasing value to you the Member.
Choosing IPSOS will also give us valuable insights into how we fit in with the overall Ski Industry, as IPSOS already provides similar research with our Partners like the CSC (Canadian Ski Council).
This is an initiative that originated from your National Board and will be an excellent tool to help shape both the organization and our service to you, as we move forward. I will provide updates throughout the next few months on its development!
We are also working on some updates to "Pro Days"; we are developing some Product Menu Refinements which will include some more options on time frames and actual sessions. For your information, I thought I would share some of the data from last year's Programs.
We delivered 1549 Pro Days last season, and of that, 879 participants filled out a survey at the program's completion. Here are the results: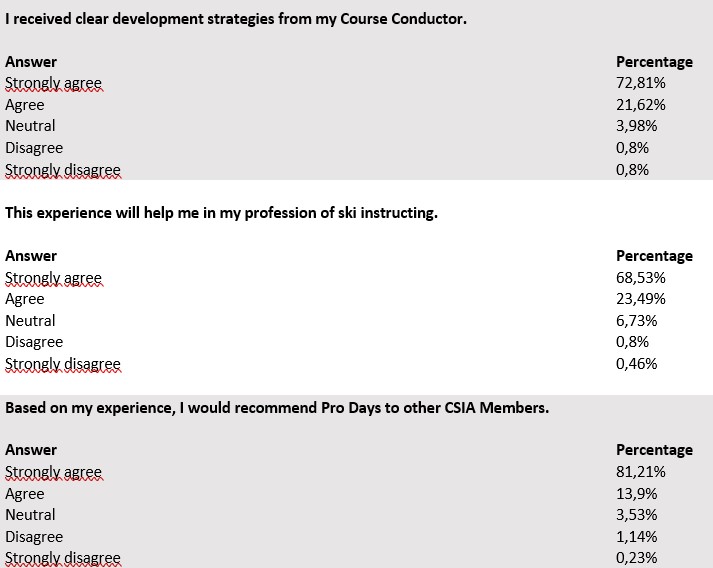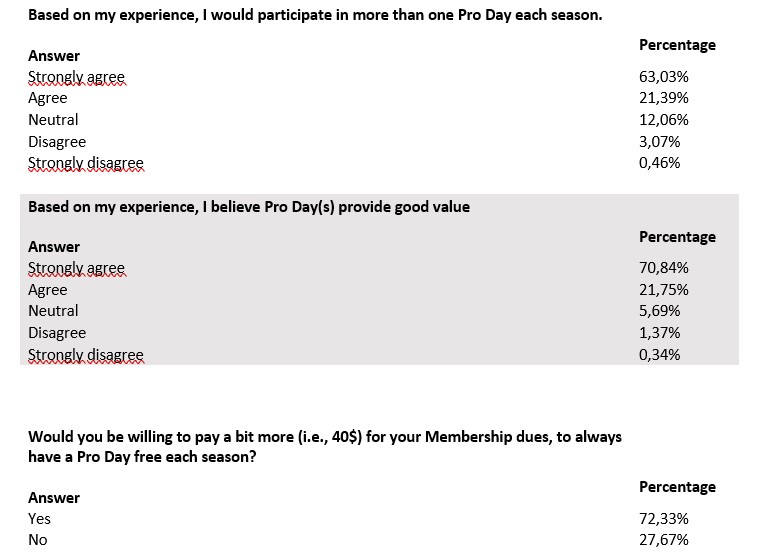 MEMBERSHIP BENEFITS UPDATE:
SUBARU CASH BACK OFFERED TO MEMBERS
Don't forget... As a CSIA Member, you can receive a $750 cash back when you purchase or lease a new Subaru vehicle!
SUMMER MEMBERSHIP BENEFITS
Need gear or clothing for your summer outings? Camping, trail running, etc.
THE NORTH FACE PRO PROGRAM is still active to CSIA Members for all your needs this summer!
THE NORTH FACE Apparel and Equipment PRO DEALS: Twice per year Members will apply to get codes for 50% off outerwear & sportswear, and 40% off footwear & equipment. Codes are one-time use for up to $1,000 after a discount.
The total retail value is over $6,000 in discounts
Free shipping
TNF Pro Deal is available through THE NORTH FACE online store only.
Once you have renewed your Membership, you will be able to go to https://thenorthfacepro.com/en/pro to sign up for this year's Pro Deal codes.

When you are on The North Face Pro Program website, you will be prompted to upload a digital copy of your Membership card. Your Membership card is found in your snowpro.com Profile.

Once you have your pro deal codes visit
And lastly, in this Communiqué, I will share this thought… I saw a recent Social Media post from CSIA Level 4 Member, Ron Betts. The post included a picture of Ski Ben Eoin, his home hill in Atlantic Canada, where his career started. It made me think that Ron's story is like many other Members and that our Ski Industry is really very small and that all the pieces are connected. From local ski hills to destination resorts, to operators like Mike Wiegele Helicopter Skiing (part of Ron's career) we are all linked, regardless of resort size, location, or market. We are all connected, and our community is all reliant on the other. My own skiing career started at a hill (Blackstrap, Saskatchewan) with less than 15 acres of skiing.
Until the next edition, and, on behalf of the staff team, enjoy the summer weather!
Best Regards,
Perry Schmunk
CSIA Managing Director