You are reading the 25th edition of the Communiqué!
GENERAL UPDATES:
Dear CSIA Member,
I hope this edition finds everyone enjoying summer! Here are a few announcements and updates.
NEW EDUCATION PROGRAM COORDINATORS (EPC) FOR ALBERTA AND ONTARIO
Over the last few weeks, the following panel of Staff Members and Ski Industry leaders held an extensive recruitment process, which included candidate applications, presentations, interviews, and third-party psychometric testing.
Jeff Marks - National Program Director
Luc Neron - Product Quality Director
Shannon Tauber – Snow School Director, Rabbit Hill, Alberta
Becki Relihan – Programming and Recreation Director, Blue Mountain, Ontario
With the recruitment process now complete, we are excited to announce the following two new Members of the Staff Team:
Kyle Armstrong (EPC Alberta) - Kyle brings a great background and perspective to this role. He is a past and current Interski Team Member (2015 and 2023 teams), a Level 4 Course Conductor, and a long-time Trainer/Program Leader/Instructor at the Lake Louise Ski School. Kyle is based in the Bow Valley. He will be working closely with our long-time Regional Administration Coordinator (RAC), Karen Kjorven.
Jamie Jack (EPC Ontario) - Jamie started his ski instructing career at Mont Tremblant (Québec) and has since worked in ski schools across Canada including Sun Peaks and Whistler, as well as Rookie Academy in New Zealand. A Level 4 Course Conductor, Jamie will be relocating to Ontario in the weeks ahead and will be working closely with our long-time Ontario RAC, Kayla Wickens.
We would like to extend a heartfelt thank you to all of those who applied for the roles. Your passion and commitment to organizational and personal growth are inspiring! Also a big thanks to Shannon and Becki for their extensive volunteer contribution of time, insight, and perspective during the entire process.
Both Jamie and Kyle are excited to get settled in with the existing Staff Team, reach out to Ski Industry partners, and connect with their regional Course Conductors and Members!
TRAINER DESIGNATION REQUIREMENTS FOR COURSE CONDUCTORS
Over the past two seasons, we have been transitioning to ensure that all Members who are also Course Conductors for the CSIA have completed the training and evaluation to obtain the Trainer Designation (previously known as the Trainer Exam portion of the Level 4 Certification). Many Members have been able to complete this process, however, due to the realities of COVID-19 and other factors still affecting us through last season, we are extending the deadline for this process, for current or previous Course Conductors until the end of the 2022-2023 season. We look forward to seeing you all on snow for Course Conductor Training in the fall! If you have questions, please reach out to Jeff, Luc, or your regional EPC.
LEVEL 1 SURVEY RESULTS
We would like to share the survey results of our Level 1 Program from this past season.
Last season, we delivered 5800 Level 1 participant Programs and of that, 1069 participants filled out a survey at the Program's completion. Here are those results: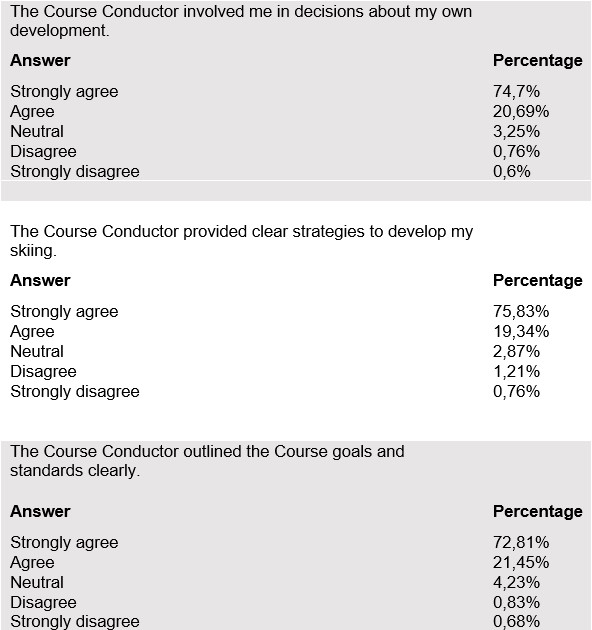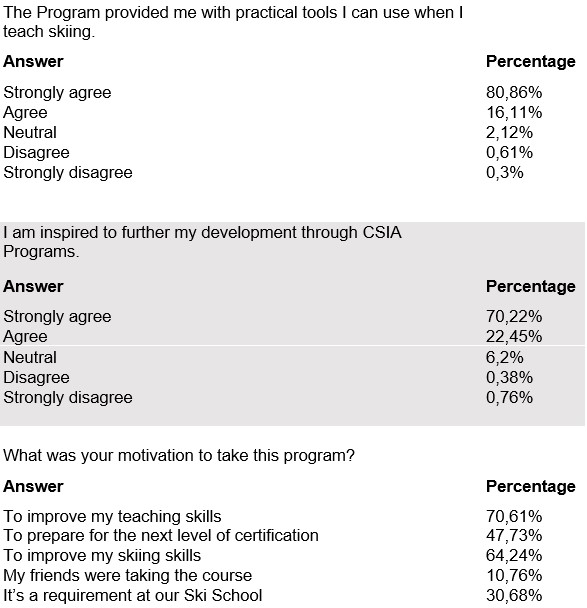 MEMBERSHIP BENEFITS UPDATE:
SUBARU CASHBACK OFFERED TO MEMBERS
Don't forget... As a CSIA Member, you can receive a $750 cashback when you purchase or lease a new Subaru vehicle!
SUMMER MEMBERSHIP BENEFITS
Need gear or clothing for your summer outings? Camping, trail running, etc.
THE NORTH FACE PRO PROGRAM is still active to CSIA Members for all your needs this summer!
THE NORTH FACE Apparel and Equipment PRO DEALS: Twice per year Members will apply to get codes for 50% off outerwear & sportswear, and 40% off footwear & equipment. Codes are one-time use for up to $1,000 after a discount.
The total retail value is over $6,000 in discounts
Free shipping
TNF Pro Deal is available through THE NORTH FACE online store only.
Once you have renewed your Membership, you will be able to go to https://thenorthfacepro.com/en/pro to sign up for this year's Pro Deal codes.

When you are on The North Face Pro Program website, you will be prompted to upload a digital copy of your Membership card. Your Membership card is found in your snowpro.com Profile.

Once you have your pro deal codes visit https://www.thenorthface.com/en_ca/homepage.html
I have been following along on social media about a great season in the Southern Hemisphere…So stoked for Members that are in New Zealand, Australia, and Chile enjoying the snow! For those of us back in Canada, I hope everyone is getting a chance to recharge the batteries and get some exercise in, as we will soon start the countdown to our Northern Hemisphere winter!
Until the next edition and, on behalf of the staff team, enjoy the summer weather!
Best Regards,
Perry Schmunk
CSIA Managing Director