You are reading the 31st edition of the Communiqué!
In this edition – Our Early Membership Renewal winners and deadline reminders of key fall events!
Dear CSIA Member,
Our Early Membership Renewal promotion ended last Friday, October 7th. Below is the list of the 2022-2023 winners. Congratulations to all!
Keep in mind that when you renew this year's Membership, you receive a 25$ promo code valid for a Pro Day or Pro Session. (Sign up now, as we work with our Ski Area partners – more dates are being added!)
Here are the 2022-2023 winners of our Early Renewal Promotion. All of them have been contacted by email and given their prize details.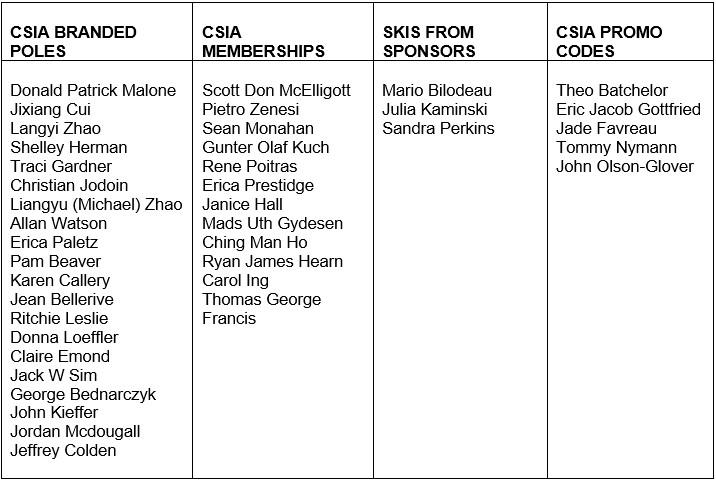 INTERSKI MEMBERSHIP PACKAGES
The October 28 deadline is coming fast for this once-in-a-lifetime opportunity to experience Interski 2023, the World Ski Congress happening in Levi, Finland. We have a few spots left! Please consult the September 22 edition of Communiqué for details and booking instructions!
FALL PRO DAYS CAMPS
They are fast approaching! Again, consult the September 22 edition of Communiqué for all the details, and for the registration and accommodation links. Our deeply discounted room rate at the Fairmont Chateau Lake Louise ends tomorrow, October 21, so don't miss out!! Good news: The weather is changing at Lake Louise and snow is in the forecast!
NEW FOR THE 2022-2023 SEASON - THE WIS PODCASTS!
Coming this season, the WIS podcasts! Lucia Glasse-Davies and Julie Sauvageau are working hard on the line-up and putting together a great schedule and program just for you! More to come, stay tuned!
MEMBERSHIP TOWN HALL RECORDINGS
Please click below if you have missed our recent Membership Town Halls that took place on October 11 and 12, 2022.
Click here to access the English session recording.
Click here to access the French session recording.
As a last reminder, Program registration is open! We look forward to seeing you this winter and supporting you through your goals!
I hope everyone's preseason training is going according to plan! This past week I saw a Social Media post from Michelle Clifford, CSIA Level 4 and CASI Level 4, with an ominous picture of a flight of stairs; that has got me motivated to get some exercise in this weekend!
On behalf of the entire staff team, we are excited to see you on-snow shortly!
Best Regards,
Perry Schmunk
CSIA Managing Director