You are reading the 38th edition of the Communiqué!
Dear CSIA Member,
Happy New Year!
In this edition, a few exciting updates!
First, I would like to recognize each of you that are working hard and pursuing your goals. Have a look at the graph below; it shows our current Certification Program pace. This curve is because of YOU - the Member taking our Certification Programs and attaining your objectives!
As we all know, our environment tends to give us challenges: in some parts of the country, weather and snow have delayed resort openings, and in other areas, high business levels have put time pressure on you as Instructors. However, regardless of those constraints, one thing is consistent – you, the Members, have your own development as a priority. It is very inspiring - keep it up!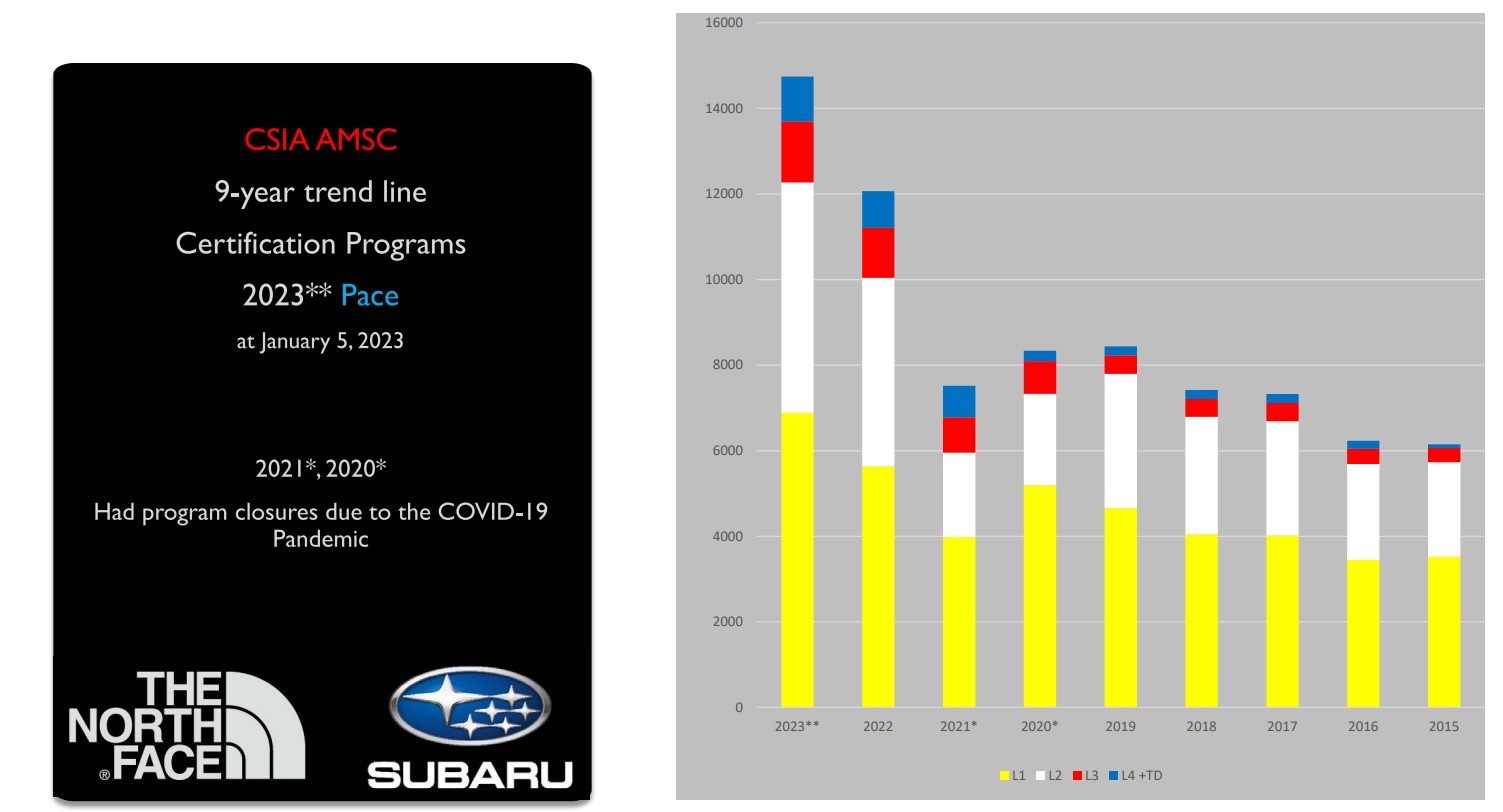 I also want to do a big "shout out" to the Course Conductors that deliver all our on-hill programming, for all their work so far this season! To the staff team that has had to remain super nimble in addressing our weather challenges and doing everything possible to meet course demand! Lastly, a big thank you to all our host Ski Schools and Ski Resorts across the country; their hospitality is greatly appreciated!
NEW VIDEO RESOURCE
Click here to have a look at the latest educational video release from your staff team!
JOIN US FOR THE INTERSKI PRO DAY IN ORFORD, QUEBEC!
This is your chance to join our Interski Team on the hill at Mont Orford! The event is happening on January 25, 2023! Click here to get all the details.
Click here to register for the Interski Pro Day. (Search Pro Days, L1 to L4, January 25, Mont Orford).
Registration is available until January 20th.
Hopefully, as we settle into the new year, we have some more stable winter weather, helping everyone's season-long training plans. As the staff team and I travel across the country, we hope to connect with each of you on the hill, in the weeks ahead.
Out on the West Coast, I recently had the opportunity to be the drive-time guest on Mountain FM, the radio station that services the Sea to Sky corridor. I chatted with Darren McPeake about all things Ski Instruction. Click here to listen to the recorded highlights.
As I stated in this edition, I am inspired to see so many of you pursuing your training goals! It is so cool to see each of you putting yourself out there and working hard! Wishing you all the success in your pursuits!
Best Regards,
Perry Schmunk
CSIA Managing Director