Snow Park Certification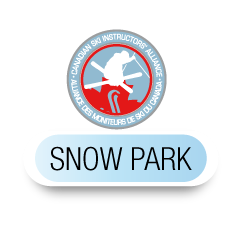 The Snow Park Certification course is designed for any skier with park experience who wants to teach in the park. It includes:
An introduction to teaching snow park skills

Practical ski improvement and teaching methods with a technical understanding and development of the guest experience

Demonstration of advanced park and riding skills

Upon successful completion of the course, the candidate becomes a CSIA member and is certified to teach snow park skills up an advanced level - air progressions, rails and switch skiing
Duration:3 days (20 hours)
Education credits value: 10 credits
Prerequisites:15 years of age, with some park experience. No previous CSIA certification required.
Course Fees:$358.00 + tax
Course Guide: click here
Registration: The 2017-18 schedule is not available at the moment. Come back soon!